If you are struggling with weight regain or experiencing complications from bariatric surgery you may benefit from revisional surgery.
We often see patients who have had failed surgical procedures in the past, or surgeries that have not allowed them to reach their weight loss goals. In some cases, a particular procedure may result in inadequate weight loss and, as a result, the inability to resolve conditions connected to obesity. In other cases, failed weight loss surgery may result in medical and physical conditions that need to be addressed.
Regardless of the reasons, the decision to pursue revisional bariatric surgery is a big decision and must be addressed with a doctor in order to make the best choice for your particular situation and health goals.
In many cases, revisional surgery is medically necessary and could be covered by your insurance. We will assign an insurance advocate to you that will negotiate with your insurance company to cover the procedure if possible, and/or ensure any out-of-pocket costs to you are as low as they can possibly be.
The doctors at the Nicholson Clinic are revisional experts. They perform the following revisional procedures:
LAP-BAND® Revision: LAP-BAND didn't give you the desired results? Or perhaps you are experiencing complications that are causing you discomfort and preventing you from maintaining your weight loss. Most of our patients are switching over from the LAP-BAND® to the Gastric Sleeve to reach their weight loss goals. In a band revision, we DO NOT CHARGE for the band removal. Other bariatric surgeons charge for the band removal, but Nicholson Clinic never charges additional surgeon fees for a band removal when revising to a sleeve or bypass at the same surgical session. Some hospitals may charge an additional fee for the band removal.
LAP-BAND® Removal: Ready to get the band removed but not sure about another procedure? We would be happy to discuss your options for LAP-BAND® removal. We will make the process as effortless as possible.
Gastric Bypass Revision: Gastric Bypass revisions are very complex procedures, as such, it is important to select a surgeon with a high level of experience. Our revisional experts and would be happy to meet with you to see if a Bypass revision is a good option for you.
Gastric Sleeve Revision: If Gastric Sleeve has failed to achieve lasting or desired weight loss, a patient may elect to have a Gastric Sleeve revision, followed by Gastric Bypass.
When weight loss surgery doesn't result in long-term weight loss, or if you are experiencing complications due to a previous bariatric procedure, revisional surgery should be considered. Call 972-494-3100 to schedule a consultation today.
""I can't wait for the next 6 months to see where I am. I truly am so happy I had this revision and I love this clinic."
~ Mandy, lost 111 pounds to date, in just 4 ½ months, with a sleeve to bypass revision.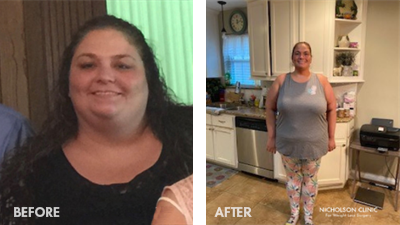 Read Her Story
"I went from being a 500lb person that was lazy and depressed to a 195lb ball of energy. Thank you for giving me my life back."
~ Jeremy, lost 305 pounds with a band to sleeve revision.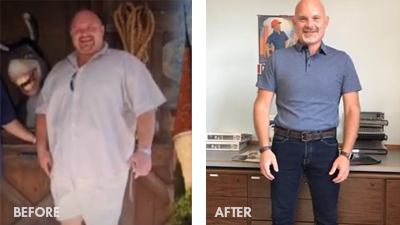 Watch His Story