Losing excess weight can give you your life back. But even after you've lost all that weight and regained your zest for life, what about the excess skin that remains?
If you've lost weight, but now deal with loose or sagging skin, we can help. Abdominal cosmetic surgery after weight loss will:
Remove excess skin
Tighten abdominal muscles
Flatten stomach
You have worked hard to get where you're at and your hard work is paying off. If a flat, toned tummy will help you be more confident in your new body, trust us to help you take the next step with cosmetic abdominal surgery.
What causes sagging skin after weight loss?
Loose skin is essentially the result of rapid weight loss—and though it can happen with weight lost through diet and exercise, it is much more common after weight loss surgery. When weight comes off more slowly, the skin's elasticity allows it to go back into place. But with rapid weight loss, the skin does not adjust as quickly as the weight comes off and the muscles also remain loose. The same result can occur after pregnancy.
Dr. Thomas Roshek & Trina discuss abdominal cosmetic surgery.
March 30, 2016
How can we help?
To help you lose the excess skin so that your body matches the person you are inside, we can perform a skin excision, often combined with an abdominal wall reconstruction (a procedure typically covered by insurance) to create a smoother, firmer abdominal profile. We focus on the abdominal region but partner with plastic surgeons who can add on other cosmetic procedures such as arm, thigh, breast and back.
Research shows that cosmetic abdominal surgery after weight loss surgery greatly increases the probability of long-term weight loss success, and most patients feel happier and more confident following the procedure.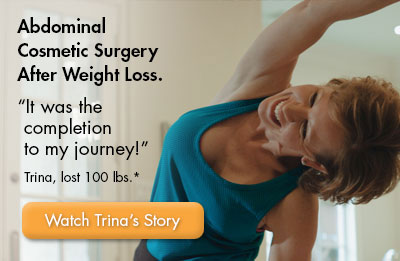 The doctors of the Nicholson Clinic and Abdominal Surgery Specialists have been specializing in abdominal procedures for over 20 years. Dr. Thomas Roshek is board certified in General Surgery and fellowship trained in advanced laparoscopic and bariatric surgical procedures. He specializes in abdominal wall hernias and abdominal wall reconstruction, helping patients achieve their weight loss goals, look and feel better.
Learn More About Dr. Thomas Roshek

* Results will vary.