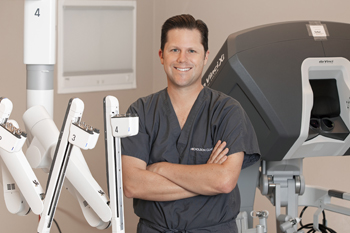 Dr. Thomas Roshek is board certified in General Surgery and is fellowship trained in advanced laparoscopic and bariatric surgical procedures. His interests include the treatment of obesity with weight loss surgery, repair of abdominal and groin hernias/complex abdominal wall reconstruction, treatment of gastroesophageal reflux disease and heartburn, and surgical treatment of gallbladder disease.
Dr. Roshek has the highest credentials in bariatric surgery and is certified by the American Board of Surgery (ABS) with the Focused Practice Designation (FPD) in Metabolic and Bariatric Surgery (MBS).
Trained and certified as a da Vinci Robot surgeon.
One of D Magazine's "Best Doctors in Dallas for 2013, 2017, 2019-2023.
One of D Magazine's Best Doctors in Collin County for 2013, 2016-2018, 2020-2023.
Texas Monthly Super Doctors: Rising Star for 2014-2016 and Super Doctor for 2018-2021.
Voted to Living Well Magazine's "Top Docs" list in Bariatric and General Surgeon category for 2019-2023.
The Nicholson Clinic team of surgeons were voted Living Magazine's Best of Three-Eighty North for 2016 & 2017, Best of Frisco/Plano for 2020-2023, Best of McKinney/Allen for 2022, Best of Prosper/Celina for 2022, and Best of Richardson/Murphy for 2022-2023.
Society of Laparoendoscopic Surgeons Resident Achievement Award for 2009.
Tufts University School of Medicine Excellence in Teaching Award.
Dr. Roshek is a Fellow of the American College of Surgeons and the American Society for Metabolic & Bariatric Surgery. He is also an active member and contributor for the Society of American Gastrointestinal and Endoscopic Surgeons. He has served as faculty, teaching advanced laparoscopic and endoscopic procedures to attendees at national conferences. He has co-authored a book chapter on the management and repair of complex abdominal wall hernias and also several scholarly articles in medical journals. Most recently he published a review article on the surgical treatment of obesity in the prestigious Journal of the American Medical Association.
Dr. Roshek has lived in Dallas, Texas since 1983 and graduated from J.J. Pearce High School in Richardson. Upon receiving his bachelor's degree from Texas A&M University, he attended The University of Texas Medical School at Houston (now called Mcgovern Medical School) where he was a class officer. He completed his residency training in General Surgery at Baystate Medical Center in Springfield, Massachusetts where he served on the Tufts University School of Medicine faculty. Dr. Roshek then completed a fellowship in advanced laparoscopic and bariatric surgery at UT Southwestern Medical Center where he was also on the teaching faculty. His research of weight loss surgery at UT Southwestern was published in the prestigious Journal of the American Medical Association. He joined the Nicholson Clinic in the summer of 2011. Dr. Roshek remains committed to the education of the next generation of physicians. He is a yearly volunteer lecturer at UT Southwestern Medical Center and offers yearly mentoring opportunities to aspiring students in surgery. He enjoys spending time with his wife and two young children and can be found playing trumpet at church on Sundays.


Dr. Roshek, and him believing in me, put a whole new perceptive to my life. I have NOT ONE negative thing to say about Dr. Roshek and the whole NICHOLSON CLINIC staff...Amazing people that truly do care. THANK YOU Nicholson Clinic from all my kids, my husband and I. You all are appreciated.


My experience with the Nicholson Clinic has only been positive! I lost 170 pounds in a year and had a helpful staff and amazing doctor, Dr. Roshek. They were all there for any of my needs with a positive attitude.