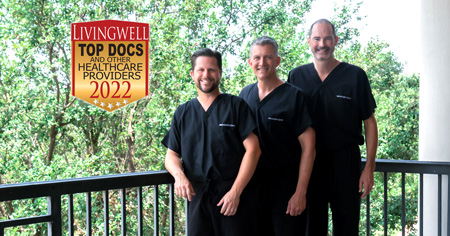 Nicholson Clinic is pleased to announce each of our surgeons has been voted to Living Well Magazine's 2022 list of "Top Docs!" This annual recognition is decided on by the magazine's readers through an online voting process.
At Nicholson Clinic, our motto is "With You All The Way," and it is our goal to provide a superior experience, throughout the entire pre- and post-op process for our patients. We don't take it lightly that each and every patient who comes through our doors has a choice when it comes to selecting a bariatric surgeon, and we are truly honored to walk alongside our patients throughout their weight loss journey.
Over the past two decades, Nicholson Clinic has helped more than 25,000 patients and become the country's premier destination for weight loss, with patients coming to Nicholson Clinic from all 50 states and 11 countries. We are dedicated to helping patients transform their lives. Nicholson Clinic patients have seen a reversal not only of obesity and Type 2 diabetes but also high blood pressure, heart disease, arthritis and other weight-related illnesses.
We believe there is hope for those who are struggling with their weight. But we also know that surgery is only part of the weight loss equation. That's why we've created comprehensive pre- and post-op support provided by a team of experts to help each patient and customize a program best suited to their individual needs.
Thank you for your confidence in us. We are honored to have Dr. Nick Nicholson, Dr. Brian Long and Dr. Thomas Roshek recognized as "Top Docs" again in 2022!